A safari is an adventurous activity that involves many thrilling moments. It is much more than just seeing wild animals, provided, you choose the right place to visit In India, you have many such destinations where exploring wildlife is considered very a great experience.
You have already heard of the famous destinations like Ranthambore or Jim Corbett, but you might not have heard about Jawai. This hidden gem surprises you in a way that exceeds your expectations.
About Jawai Bandh Leopard Safari
There are many reasons that make Jawai a unique destination for exploring wildlife. Like the rest of the reserves in India, it does not give you dense forests that make the sighting of animals difficult.
In Jawai, you get to see a wide range of granite hills that have becomes the living space for leopards. Other than the big cats, you get to see a massive number of migratory birds, crocodiles, hyenas, jungle cats, nilgai, fox, wolf, and various other species.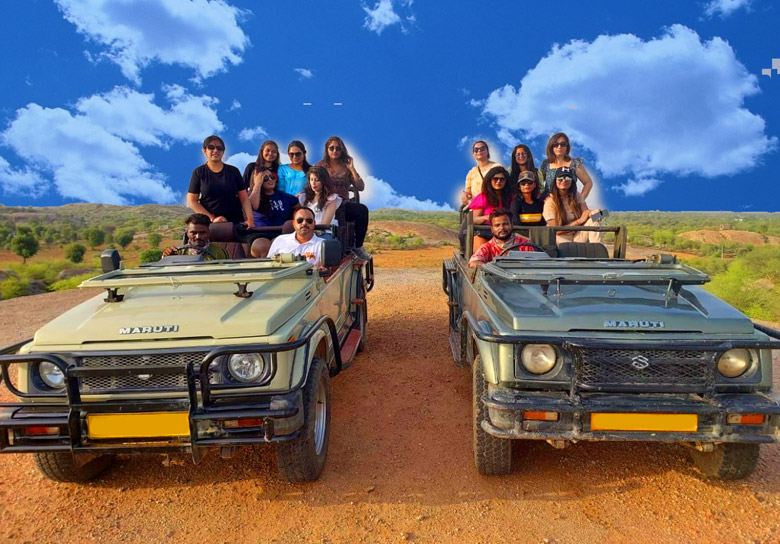 Here are some questions that you might be having about Jawai:
How many leopards are there in Jawai?
In Jawai, there are approximately 50 to 60 leopards in jawai that are scattered throughout this region. This is a big reason that visitors never get disappointed and spot the beasts within just a few minutes of beginning their safari.
At this place, you get to observe these solitary and opportunistic animals very closely. Also, you get to see their familiarity with human beings.
How about the habitat of leopards and other animals?
As hinted above, leopards dwell in the rocky caves of the granite hills of Jawai. The rocks are millions of years old and have become a preferred place for the beasts as it hosts an enormous number of caves here.
Once you come here, you observe a different kind of home for wild animals. There are very few places in the world where you get to see this, this region is truly an exception.
What are the timings of Jawai Safari?
Jawai safari can be done either in the morning or in the evening. If you opt for the morning one, the safari starts around 5:00 AM to 8:30 AM, or the evening safari starts around 4:00 PM to 7:30 PM. In both of the safaris, you get to feel great adventure because you explore a different type of region. You go through rocky hills and this makes your experience much more exciting.
What is the best time to visit Jawai for Leopard Safari?
In Jawai, you can spot leopards in any season or month of the year, however, in order to maximize the chances of seeing the beasts, it is recommended that you visit between the months of October to March. This is duration is considered the best for seeing any sort of animals in the national parks and sanctuaries.
Which time is best for seeing the leopard, evening, or morning?
Both the timings have their own specialties because leopards their activities planned and we know how they go spend their day and night.
Leopards hunt in the night, eat it, and then take some rest, in the morning they come out to do sunbathe and sit on the hills. Due to this, spotting in the morning becomes very easy.
In addition to this, you get ample time to explore the Jawai dam where you can watch migratory birds, crocodiles.
You get to enjoy the high tea on the hills and see the sunset point. When the gypsy rides through the hills, the thrill is unmatched and the entire tour becomes memorable.
In the evening, leopards sit on the hills to take a view of the entire area, this is when they decide where to go for the hunt. They come down to the river for drinking water and the spotting is priceless at that time.

Therefore, we can say that you get to see leopards at both the time and get a great experience.
Why choose Thour Nature Resorts or a Jawai Leopard Safari?
If you have made up your mind to do a tour in Jawai, you should also start choosing the safari and stay provider. Thour gives you not just one but multiple reasons to choose it over the other resort in this place. Here are the reasons that make us a better choice for you:-
Professional Drivers – Our drivers are accustomed to riding gypsies in the hilly trek of Jawai as they are doing it for more than 8 years now. They know every inch of Jawai and can make your ride adventurous. They also make certain that you are able to spot the leopards without wasting time.
Sanitized Gypsies– Since the outbreak of Covid-19, sanitation has become a primary practice at every place. We are adhering to all the guidelines to make the trip safe for our guests.

Our gypsies are thoroughly sanitized before and after every ride. The same thing is done to the rooms as well.
Professional Trackers– These are the people responsible to bring your closer to the leopards. They are deployed at different locations and they constantly communicate with other each and the drivers.

Whenever a leopard is spotted at a particular location, the info is routed instantly to the drivers and other trackers.
Leopard Cave Near Property– This is something that Thour exclusively offers. Our property lies very near to the Routela hill that is the home to a female leopard "Neelam". Because of this, our guests get to see her and even her cubs without even stepping out of our resort.

Another two hills, Kothar and Jaktala are homes to another female "Ziya" and a male "Heera" respectively. These two hills are just 3kms away from our resort.
With all these features, Thour becomes a go-to choice for all those people who want to explore Jawai. Besides these safari-centric attributes, there are other merits that you cannot ignore.
At Thour, we provide 100% organic food that is produced right at our property. The tents are very spacious and the property is sprawling which makes the leisurely strolls perfect.

If you are planning a Jawai leopard safari, do it with us, we'll make this trip unforgettable for you. CALL/Whatsapp : +919784559999