Are you a bird-watcher? Is your answer is in affirmative? If you are looking for such a place where you can enjoy bird-watching to the fullest, there can never be a better place than Jawai where you can sight the numerous migrants. Bird watching in Jawai is one of the top things to do apart from enjoying Jawai Leopard Safari.
Majority of the people are known that Jawai is one of the leopard conservations reserves in Rajasthan. However, very few knows that this place is also a perfect place for sighting different species of birds. Jawai is a place that takes you to nearest to the birddom and offers you with an opportunity of witnessing those migrant birds that you cannot sight at any other place.
This place is very rich in its flora and fauna. Other than leopards and different species of migratory birds, you can sight other wildlife creatures such as hyenas, nilgai, jungle cat, wild fox, crocodiles, sambhar, cheetal etc.
The best time to visit Jawai for bird watching is in the months between November to February. At Jawai you can witness more than 100 species of birds that comes to this place annually due to the favorable climatic conditions of the region. One interesting or unique thing about this place is that you don't have to roam here and there to look for birds. You only have to visit Jawai Bandh where you can sight thousands of different birds.
We assure you that if you will be visiting this wildlife conservation reserve for bird watching, the time for sighting them will always be felt less by you. At the end of your trip to Jawai, you could be able to have a plethora of images of different birds whose sighting is not possible at any other place in India. After your trip to Jawai, we ensure that the bucket of your mind will become full with the countless memories.
It would not be an exaggeration if we term Jawai as paradise for bird-watchers as on every step while visiting Jawai Bandh, you will be exploring a new bird. This blog provides you with the list of various migratory birds found in Jawai. The major species of birds in Jawai that you can sight are as follows:
Indian Eagle Owl
Indian Robbin
Laggar Falcon
Shikra
Black Winged Kite
Ruddy Shelduck
Bar-Headed Goose
Greater Flamingo
Sarus Crane
Indian Peafowl
Pelican
Cranes
Spoonbill
Indian Eagle-Owl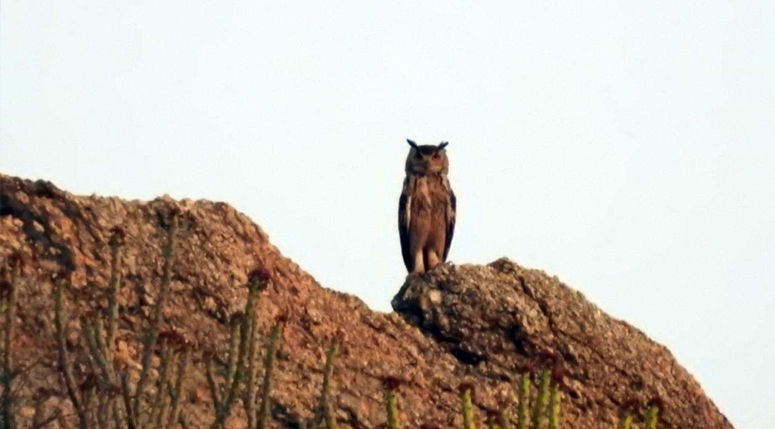 Also known as rock eagle-owl or Bengal eagle-owl, this particular species is found mostly in the hilly and rocky areas of the Indian subcontinent. They are large-horned and their color has a combination of grey, brown, white with black stripes. Earlier, it was considered a subspecies of Eurasian eagle-owl and its scientific name is Otus bengalensis.
Furthermore, its hoot has a resonating sound that can be heard at dusk and dawn. They can also be found at places of high altitude and humid forests as well because at both the places, they find ample food. They hunt rodents, bats, other small mammals, reptiles, and some birds such as spotted owlet, shikra, Indian roller, doves, partridges, etc. 
Indian Robin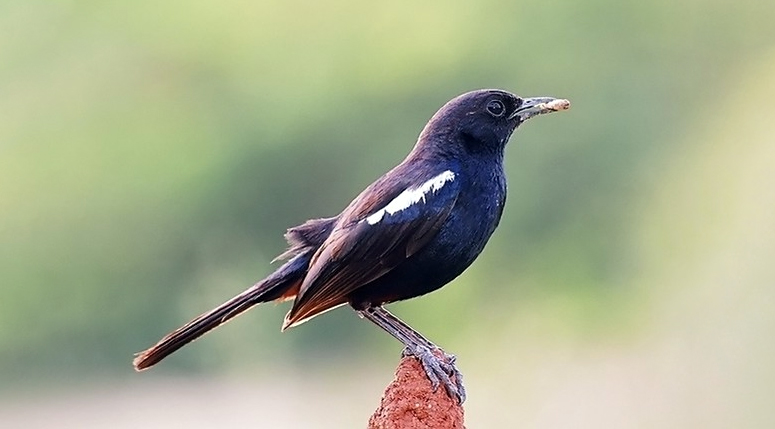 Indian belongs to the Muscicapidae family and its scientific name is Copsychus fulicatus. Besides India, there are also found in Sri Lanka, Pakistan, Nepal, Bhutan, and Bangladesh. They are found in the entire Indian subcontinent and their color vary in different regions. The males of the northern part of the country have a brown back while in the southern region they have a black back. They can be found in rocky areas, low thorny scrubs, and open scrubs as well.
There are some distinct attributes that distinguish Indian robin from oriental magpie robins, American robins, European robins, and pied bushchats. The former holds up the tail upright and has a dark body and because of these subtle characteristics, ornithologists had quite a confusion discerning the different species.
Laggar Falcon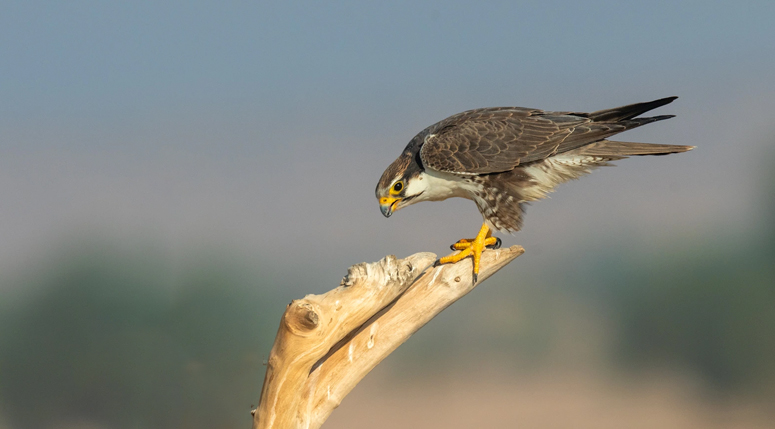 Also known as Falco jugger, this species can be found in Myanmar, Bangladesh, Bhutan, Nepal, Pakistan, Afghanistan, Iran besides India. It looks like a lanner falcon but has a darker color and is a medium-sized bird of prey. It belongs to the family of hierofalcons that has gone through rapid hybridization and therefore, there are plenty of species of falcons that have very subtle differences from each other.
Apart from hilly areas, they can be found in dense forests, deserts, and thorny scrubs as well. It is one of the species of birds whose population is decreasing because of the widespread use of pesticides, its number used to be way higher than it is right now.
Shikra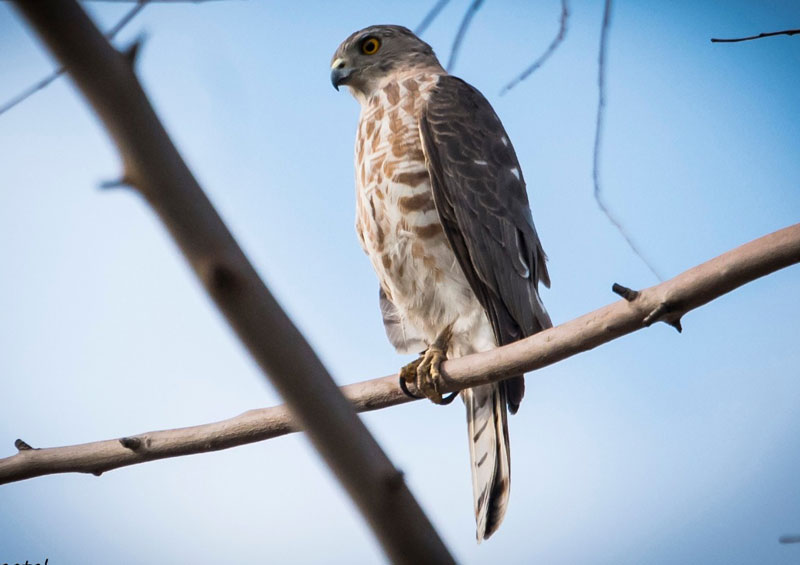 It is a small bird of prey belonging to the Accipitridae family and its scientific name is Accipiter badius. It is found in various regions of Asia and Africa where is it known as little banded goshawk. According to many ornithologists, the African species is actually a subspecies of Shikra. In terms of appearance, it looks very similar to other raptors like Eurasian sparrowhawk and the Chinese goshawk.
The other features involve glide flight, typical flap, and a sharp two-note call. The size is approximately 26 to 30 cm with long tails and rounded wings. They feed on insects, small reptiles, small birds, squirrels, and rodents, they can be found in dense forests, and urban areas as well. They have a reputation for being an astute predator and can be trained as well.
Black-Winged Kite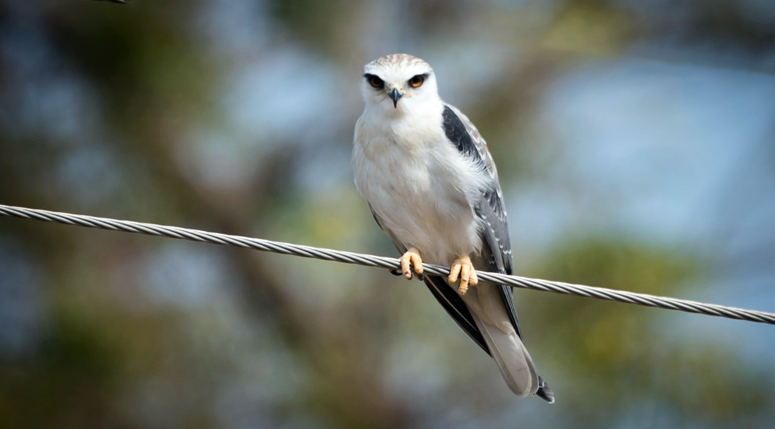 Belonging to the Accipitridae family, this small diurnal bird of prey is also known as black-shouldered kite and its scientific name is Elanus caeruleus. There are other species with similar names such as white-tailed kite from North and South America and Australian black-shouldered kite, but the black-winged kite can be differentiated with its distinctive features.
It has owl-like forward-facing eyes, black and grey plumage, long wings, and red irises. They can be found on high altitudes, grasslands, deserts, and plains as well. They prey on small snakes, frogs, lizards, insects, rodents, and small birds even in flight. They are not known for being migratory but they can move to other places for food. 
Ruddy Shelduck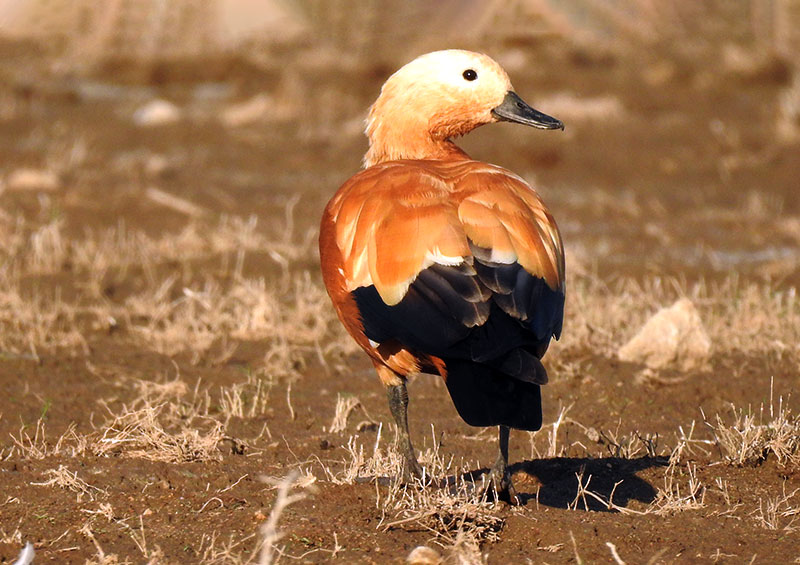 Belonging to the Anatidae family, this waterfowl is also known as Brahminy duck in India. It is 23 to 28 inches (58 to 70cm) tall and the length of the wings can extend up to 43 to 53 inches (110 to 135cm). It is a migratory bird with a loud honking call that is found in central Asia, southeastern Europe along with the Indian subcontinent. It has while covert wings, black flight feathers, white tail, paler head with orange-brown plumage.
It is mostly found in the inland water-bodies such as rivers, lakes, and reservoirs. They are monogamous in nature and build their nest far from the water-body usually in a depression in ground or cliff and tree sometimes. The fledging period of the young ones is approximately eight weeks and they are protected by both the parents.
Bar-Headed Goose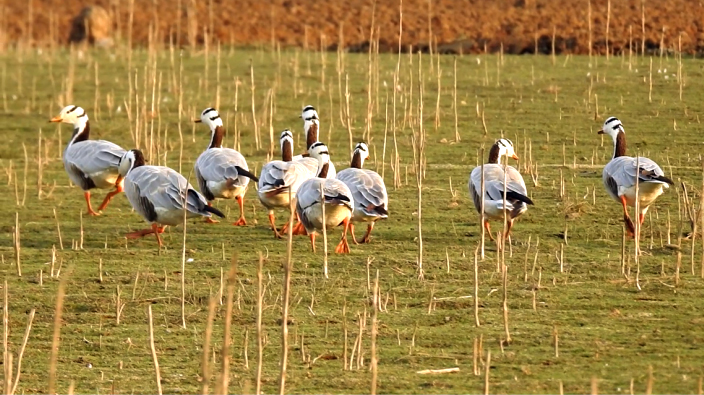 Another waterfowl with some distinctive features that is found is various regions of Central Asia and in the Indian subcontinent, its scientific name is Anser indicus. It is indigenous to India and lays three to eight eggs in at a time. It weighs around 1.87 to 3.2 kg (4.1 – 7.1 lb), is 28 to 30 (71 – 76 cm) inches tall, it has black bars on its head, and the rest of the body is pale grey in color.
This species looks paler than the other geese but it has a typical goose call in flight. In summer it can be found on high-altitude lakes and it grazes on small grass. It is also one of the highest-flying birds of the world as it has been seen on Mount Everest at the height of 29,029 ft, and on Mount Makalu at the height of 27,825 ft.
Its migration patterns have puzzled the naturalists and physiologists worldwide since they cannot find a reason behind choosing high altitudes when low-lying passages are also available at the same places.
Greater Flamingo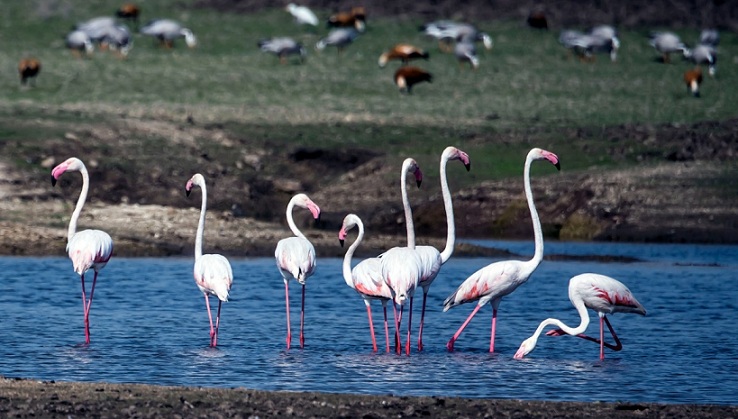 It is the most widespread and largest species belonging to the flamingo family with the scientific name, Phoenicopterus roseus. It is also found in Southern Europe and the Middle East besides the Indian subcontinent. It is considered a separate species with no subspecies and is also known for the distinct features like the difference of color on the prominent body parts such as a bill, neck, and head which makes it different from the other flamingos. It weighs around 2 to 4 kg (4.4 – 8.8 lb) and is 43 to 59 inches (110 – 150 cm) tall.
Its bill is pink with a black tip, legs are totally pink, primary and secondary flight feathers are black, covert wings are red and plumage is pinkish-white. There are various sanctuaries and national parks in India where these can be seen, their average lifespan is about 30 to 40 years in wild.
Sarus Crane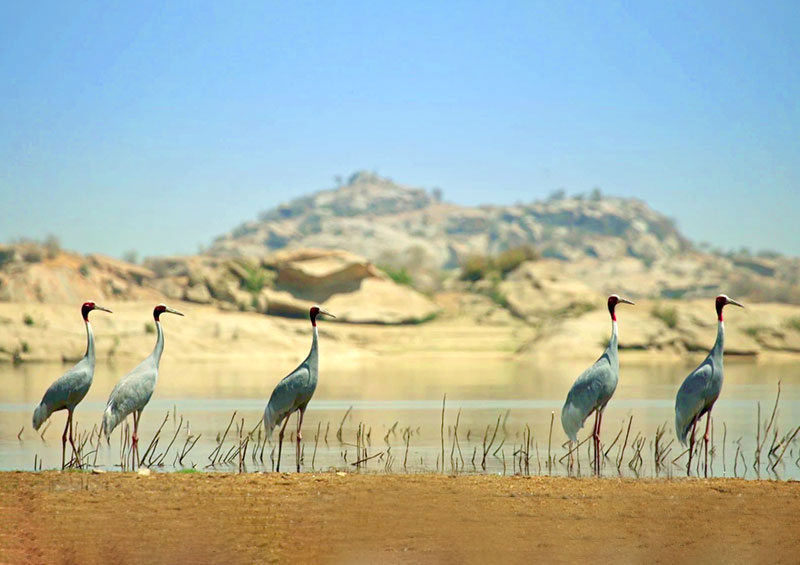 It is the tallest flying bird and a non-migratory crane that is found in Australia, Southeast Asia, and the Indian Subcontinent. Its scientific name is Antigone antigone and its height is around 5 to 11 ft (1.8m) and weight can vary from 5 to 12 kg (11 – 26lb). They can be found in grasslands, woodlands, forests, mangroves, and wetlands as well. Because of their red-colored head greenish-grey pointed bill, white upper neck and grey body, they can be easily distinguished from the other cranes.
The sarus crane is also known for building extensive nests that could cover 2 meters of ground in diameter and is usually built above the water. They breed during the rainy season and are monogamous in nature, they can even starve to death if the partner is lost. They are omnivorous and feed on seeds, crustaceans, frogs, fish, aquatic plants, insects, etc.
Indian Peafowl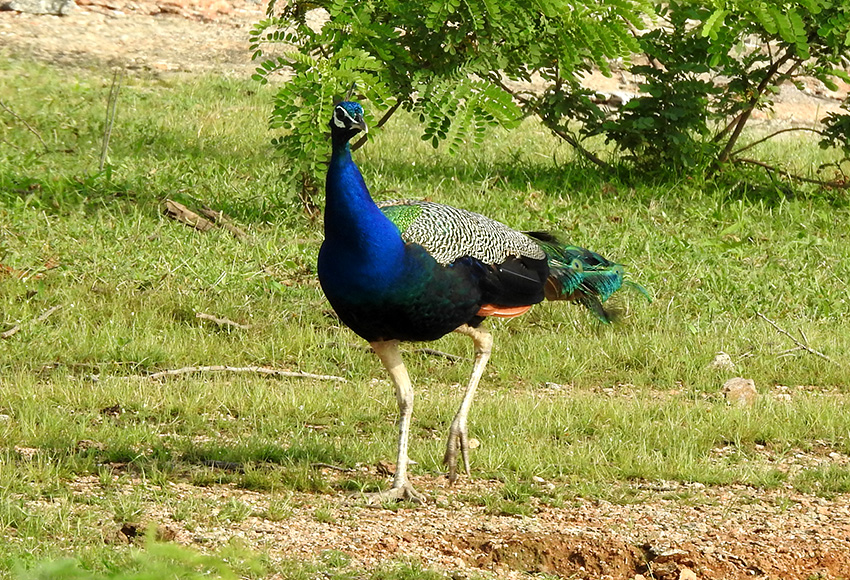 Book Your Bird Sighting in Jawai, Rajasthan Call & Whatapp : +919784559999 | Email: [email protected]