Doing a wildlife safari in India is a unique experience and there are so many places where you can explore the flora and fauna of this bio diverse land. In this article, we will tell you about 10 such destinations where you can have an amazing experience of safari, so let's begin without further ado.
Post Contents
Hemis National Park (Ladakh)
Jim Corbett National Park (Uttarakhand)
Ranthambore National Park (Rajasthan)
Bandhavgarh National Park (Madhya Pradesh)
Sasan Gir National Park (Gujarat)
Kaziranga National Park (Assam)
Kanha National Park (Madhya Pradesh)
Periyar National Park (Kerala)
Sundarbans National Park (West Bengal)
Taboda National Park (Maharashtra)
Book your wildlife safari tour with Us : 919784559999
Hear is The List of  Top 10 Wildlife Safari in India:
1. Hemis National Park (Ladakh)
Located in the high-altitude mountains in the eastern Ladakh union territory, Hemis National Park is renowned for its snow leopards across the globe. According to few experts, this species is found at the highest density in this area.

Besides the height and big cats, there are a few more attributes that make this place very special. It is the second-largest contiguous protected area, the largest notified protected area (largest national park), and the only national park in the north of the Himalayas.

The park provides shelter to a large number of endangered species and it is also a part of the Palearctic realm.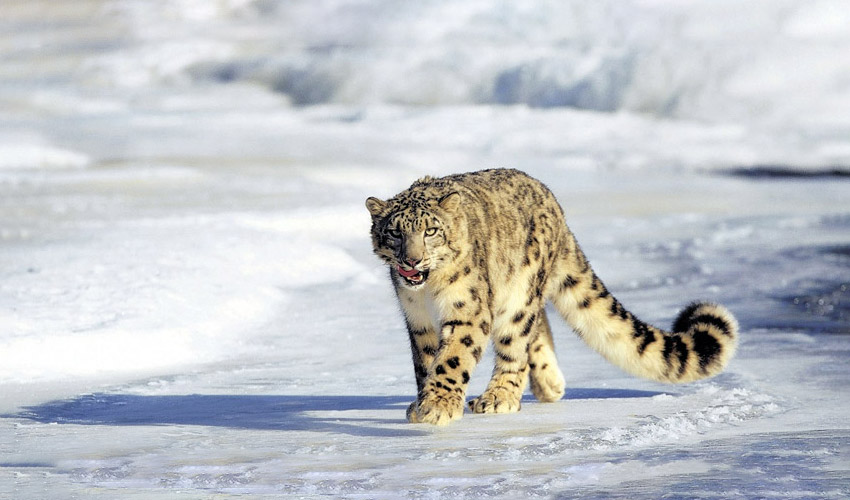 In the north area of the park, you get to see the banks of the Indus River along with the catchments of Markha, Rumbak, Zanskar Range, and Sumdah. With a total area of 4,400 km2 (1,700 sq mi), it is the largest national park in South Asia which was established in 1981.

If you talk about the flora of the park, it contains alpine tundra, meadows, alpine shrublands, and pine forests. It is a part of the Karakoram-West Tibetan Plateau alpine steppe ecoregion as well. The fauna comprises of snow leopards, Shapu, Asiatic ibex, Bharat (blue sheep), Argali (Great Tibetan Sheep), and multiple species of birds as well.
2.Jim Corbett National Park (Uttarakhand)
It is the oldest national park in India located in Nainital and Pauri Garhwal district of Uttarakhand. Upon its establishment in the year 1936, it was named Hailey National Park but got rechristened later after the renowned hunter and naturalist, Jim Corbett.

It was the first park to come under the Project Tiger initiative and today, it is one of the most popular ecotourism destinations in the world. Jim Corbett is home to 488 different species of plans and attracts more than 70,000 visitors to the park. If you talk about fauna, it comprises of 25 reptile species, 580 bird species, and 50 mammal species.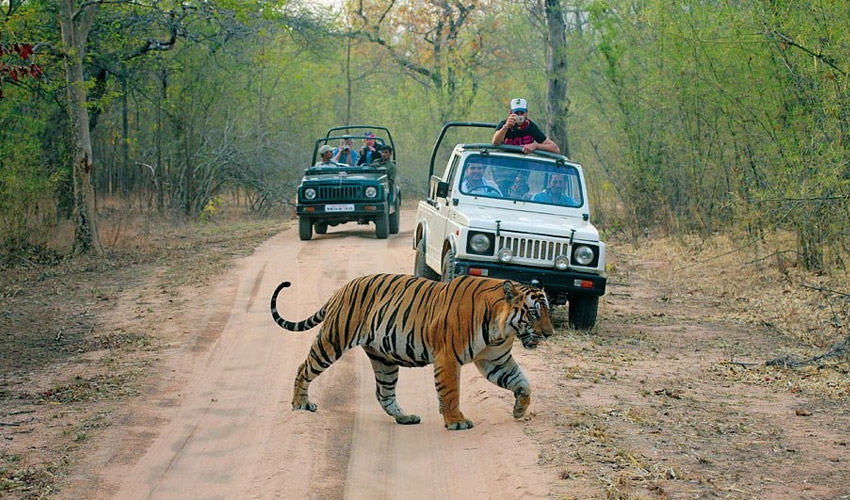 The diverse geographical attributes of this park make it more beautiful, it has a large lake, grasslands, marshy depressions, riverine belts, and hills. The area that the park comprises is 520.8 km2 (201.1 sq mi) and the elevation ranges from 1300 to 4000 ft.

Besides the Bengal tiger, the park is home to several other species including rhesus macaque, langur, Indian pangolins, Himalayan goral, yellow-throated martens, otters, Indian grey mongoose, Himalayan black bears, sloth, chital, hog deer, sambar deer, barking deer, leopards, leopard cat, fishing cat, jungle cat, Indian elephants, crocodiles, gharials, Indian python, and a great range of birds as well.
3. Ranthambore National Park (Rajasthan)
With a total area of 1334 sq.km, Ranthambore is one of the most popular ecotourism destinations in the entire north and northwestern India. If we go down to its history, this part was established in 1955 by the government of India as the Sawai Madhopur Game Sanctuary.

It became a part of the Project Tiger in 1973 and got the official status of a national park in 1980. In 1922, two adjacent sanctuaries i.e. Keladevi and Sawai Man Singh sanctuaries were included in it. The park is well-known for the well-planned conservation of Bengal tigers and it makes the sightings of big cats very quick and effortless too.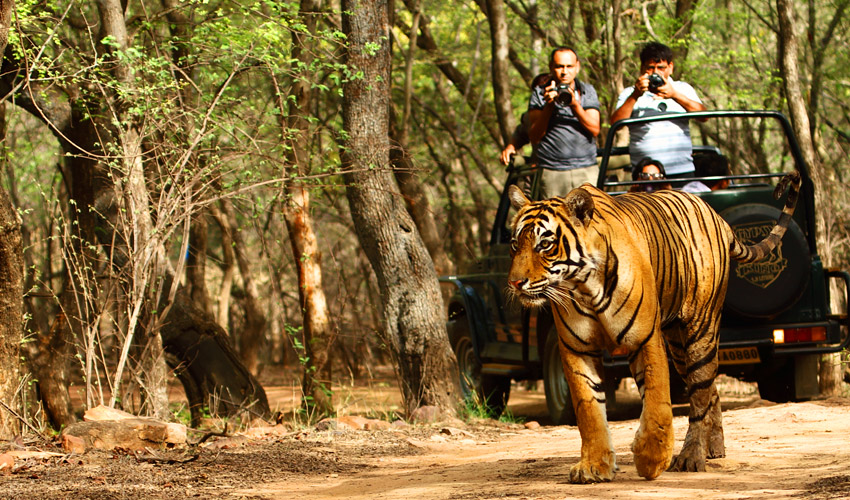 Apart from the tigers, you also can also see chital, mugger crocodiles, rhesus macaque, southern plains gray langur, sloth bear, striped hyena, sambar, wild boar, nilgai, Indian leopard with various species of reptiles and birds.

It is also home to one of the largest banyan trees in India and is bounded by two different rivers which are Banas in the north and Chambal in its south. It was home to 'Machli', the most famous and the oldest-living tigress in the history of wildlife.

It continues to be a perfect breeding ground for multiple species with diverse flora and the efforts of the conversation by the officials here are also commendable.
4. Bandhavgarh National Park (Madhya Pradesh)
Located in the Umaria district of Madhya Pradesh, Bandhavgarh is a national park with an area of 716 km2. It officially became a national park in 1968 and was declared a Tiger Reserve in 1993.

There is an interesting fable associated with the name of this park, as per the legend, it is titled after the prominent hillock of the area which became a vantage point for Lakshmana who was by his brother Lord Rama to keep a watch on Lanka.

The park is known for its biodiversity and boasts of having the highest density (8 tigers per square km) of the tiger population in India. It also provides shelter to various other species of mammals, birds, reptiles, and butterflies.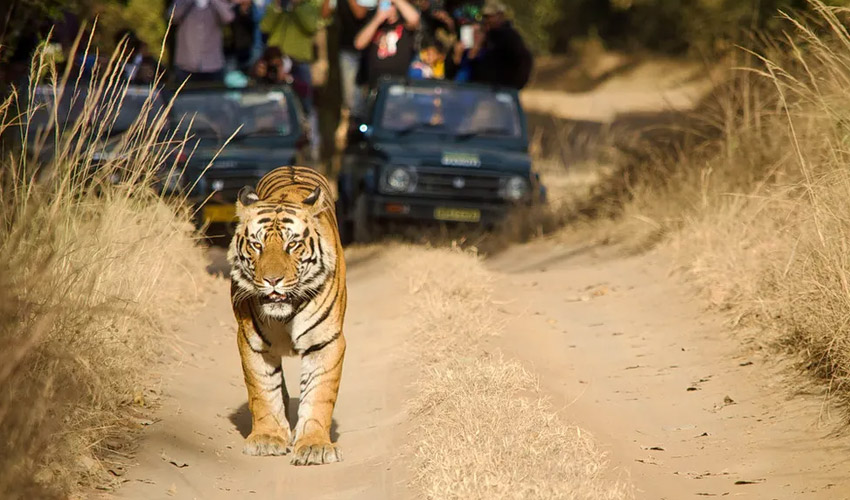 Except for tigers, the other animals that you can see in this park are Indian leopard, chital, nilgai, Indian wolf, striped hyena, caracal, nilgai, barking deer, sambar, along with 350 species of birds.

The richness and abundance of grasslands invite a large number of sarus cranes and other migratory birds in the rainy season here. Bandhavgarh is a part of the deciduous forests and lies in the Deccan Peninsula (Zone 6A). In the flora, you get to see dense bamboo thickets among Dhobin, Salai, Saja, and Sal. In the year 1951, a white tiger named Mohan was captured by the Maharaja Martand Singh of Rewa, its taxidermic statue can be still can be seen here.
5. Sasan Gir National Park (Gujarat)
Also known as Gir National Park and Wildlife Sanctuary, this reserve was established in 1965 and it is a part of Khathiar-Gir dry deciduous forests ecoregion.

The total area of the forest is 1412 km2 (545 sq mi) and it consists of three different regions which are Amreli, Junagadh, and Somnath. From 16 June to 16 October, the park gets closed every year and the best time for wildlife photography and safari is considered between the months of April and May.

However, the heat could be unbearable for some and therefore, the recommended time to visit Sasan Gir is between the months of December and March.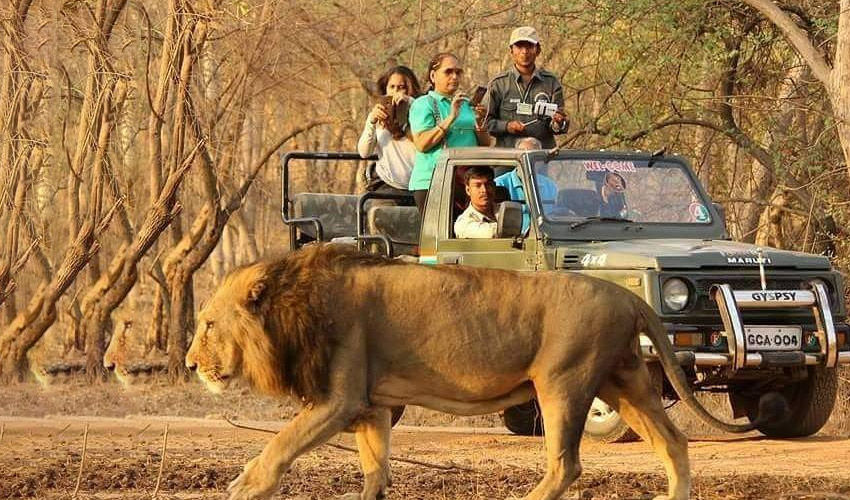 It is the only place in Asia where you can see Asiatic lions and their population is growing at a very positive rate for the last few years. Like every other wildlife reserve, Gir also comprises of a large variety of flora and fauna. You can see a large variety of broadleaf trees here including banyan, chalam, kalam, sirus, amli, umlo, karanj, etc.

The park yields approximately 5 million kilograms of green grass that is worth Rs. 500 million (US$7.12 million). Besides Asiatic lions, you can also see a honey badger, ruddy mongoose, leopards, jungle cats, hyenas, Bengal fox, desert cats, golden jackal, and various other species of birds, insects, and reptiles.
6. Kaziranga National Park (Assam)
Kaziranga National Park is a world heritage site, it hosts two-thirds of the world's great one-horned rhinoceroses and is also home to a high density of tigers. The park consists of three different districts and is located on the edge of the Eastern Himalaya biodiversity hotspot. In 2006, it was declared a Tiger Reserve and provides shelter to swamp deer, wild water buffalo, and elephants as well.

When it comes to the upkeep and preservation of protected areas, Kaziranga outdoes all other wildlife reserves and it is also recognized as an Important Bird Area by BirdLife International. With dense tropical broadleaf forests and marshland, provides major sources of sustenance to herbivores.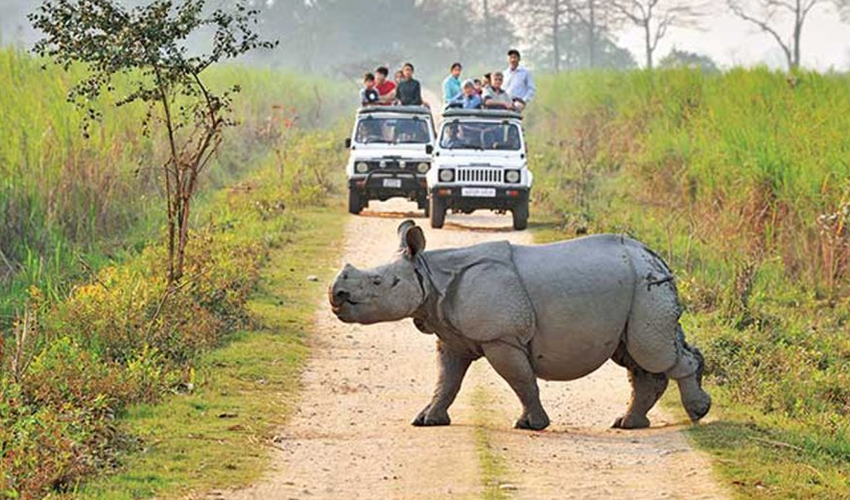 It was established in 1905 as a reserve forest and has been the central theme of several documentaries, songs, and books. At the time of its establishment, the park only had the area of 232 km2 (90 sq mi), today, the official area recognized by the government is 430 km2 (166 sq mi). The area often gets hit by floods that claim the lives of many animals every year.

However, as soon as the water recedes the resilience of wildlife can be noticed clearly. The park manages to attract a large number of tourists every year and stuns them with its biodiversity. It consists of multiple water bodies, swamps, open jungle, short grasses, tall grasses, and a great variety of birds, mammals, reptiles, and insects.
7. Kanha National Park (Madhya Pradesh)
It is the largest national park in the state of Madhya Pradesh with a total area of 940 km2 (360 sq mi). Like many other reserves, it also encompasses two different districts and is home to a significant population of royal Bengal tigers, wild dogs, barasinghas, sloth bears, and leopards.

If you have read or watched The Jungle Book, then you should know that Rudyard Kipling wrote the story keeping this jungle at the backdrop. It also becomes the first tiger reserve in the country that has introduced an official mascot after the swamp deer that is found in abundance in this reserve, its name is Bhoorsingh the Barasingha.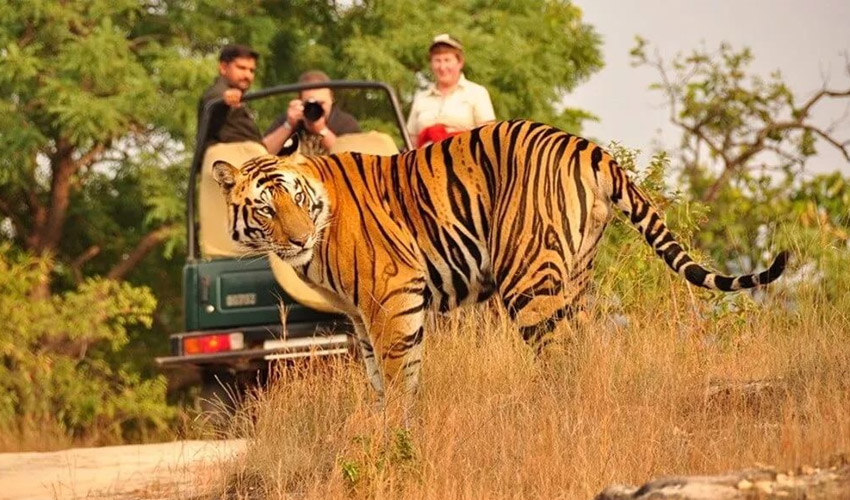 At Kanha, you also get to see over 1000 species of flowering plants along with vast meadows, mixed-forest trees, and notably, the Indian ghost tree.

If you talk about the fauna, then you get to see rhesus macaque, wild boars, langurs, sloth bear striped hyena, Indian wolf, nilgai, four-horned antelope, barking deer, sambar, spotted deer, mouse deer, blackbuck along with a great range of birds. Kanha certainly provides a great experience and it gives shelter to the people of the semi-nomadic Baiga tribe as well.

The efforts of conservation have improved in the past years and the number of animals is seeing a growing trend.
8. Periyar National Park (Kerala)
Periyar National Park and Wildlife Sanctuary is noted for a tiger reserve as well as an elephant reserve. With the total area of 925 km2 (357 sq mi), this reserve is home to some to many endangered, rare, and endemic species of flora and fauna. It comprises the area of Pandalam Hills and Cardamom Hills of the Western Ghats that touches the border of Tamil Nadu as well.

The biodiversity of this park has been admired by environmentalists and activists across the globe. It was established in the year 1950 and before that, it was a private game reserve owned by the Maharaja of Travancore.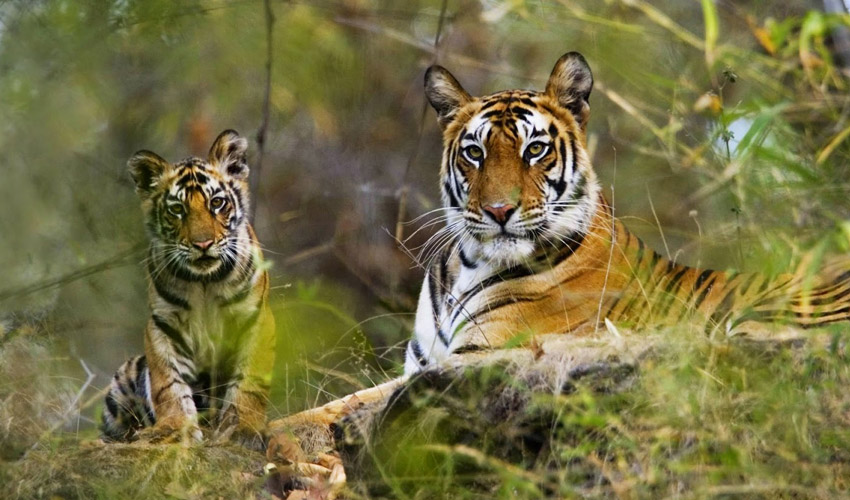 This park consists of various species flowering plants, grasslands, tropical evergreen, and moist deciduous forests. It has 171 species of grass and 140 species of orchids along with bamboos, conifer, eucalyptus, kino tree, royal Poinciana, plumerias, sacred fig, banyans, tamarind, jacarandas, sandalwood, terminalias, rosewoods, teak, etc. You also get to see the plantations of coffee, cardamom, and tea.

If you talk about the fauna, then you get to see Nilgiri marten, stripe-necked mongoose, Salim Ali's fruit bat, Nilgiri langur, lion-tailed macaque, wild pig, sambar, gaur along with Asian elephant and Bengal tiger.
9. Sundarbans National Park (West Bengal)
This national park has earned multiple titles due to its attributes, it is a Ramsar site, UNESCO World Heritage Site, a biosphere reserve, and a tiger reserve. It is one of the largest reserves for Bengal tiger in the world and also provides a huge spectrum of species due to its dense mangrove forests. It provides shelter to many invertebrate species, salt-water crocodiles, birds, and other reptiles.

The history of this park dates back to 19th century, in 1875, a large part of the mangrove became a reserved forest under the Forest Act. It became a tiger reserve in 1973, a wildlife sanctuary in 1977, and a national park in 1948.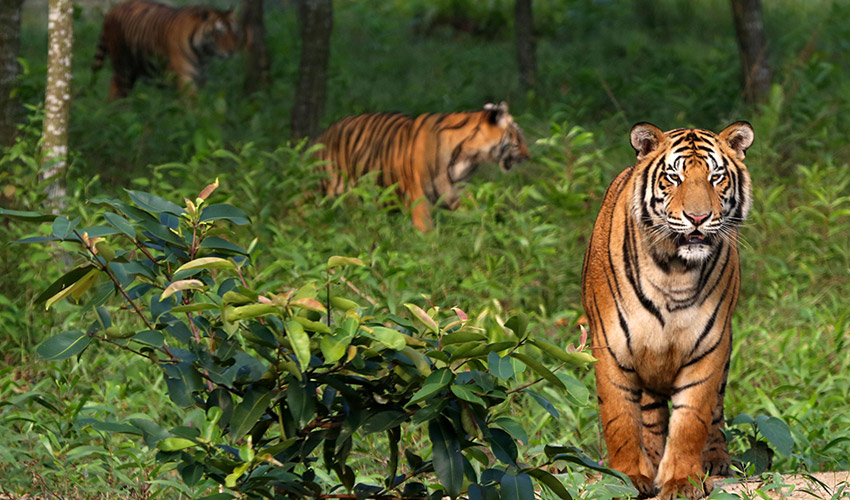 At present, the total area of the park is 16,900 square kilometers (6,526 sq mi) and a significant portion of the delta is located in Bangladesh. Sundarban is known for its avifauna and aquatic fauna as well.

There are several species of birds that you can see here and some of them are whistling teals, white-eyed pochards, northern pintails, golden plovers, curlews, eastern knots, little stints, black-tailed godwits, Eurasian whimbrels, pariah kite, water hens, openbill storks, and many others.

It is also home to some rare species of marine mammals such as Ganges river dolphins, Irrawaddy dolphins, finless porpoises, and many others.
10. Taboda National Park (Maharashtra)
Also known as Taboda Andheri Tiger Reserve, this one is Maharashtra's largest and oldest national park. It was established in 1955 and has a total area of 577.96 square kilometers (223.15 sq mi).

This park also has an interesting legend associated, according to it, a village chief named Taru was killed in a mythological encounter with a tiger.

He was revered by the locals and a shrine was built for him posthumously which now exists beneath a large tree on the shore of Taboda Lake. In the Hindu month of Pausha, an annual fair is held and the temple is visited by hundreds of people at that time.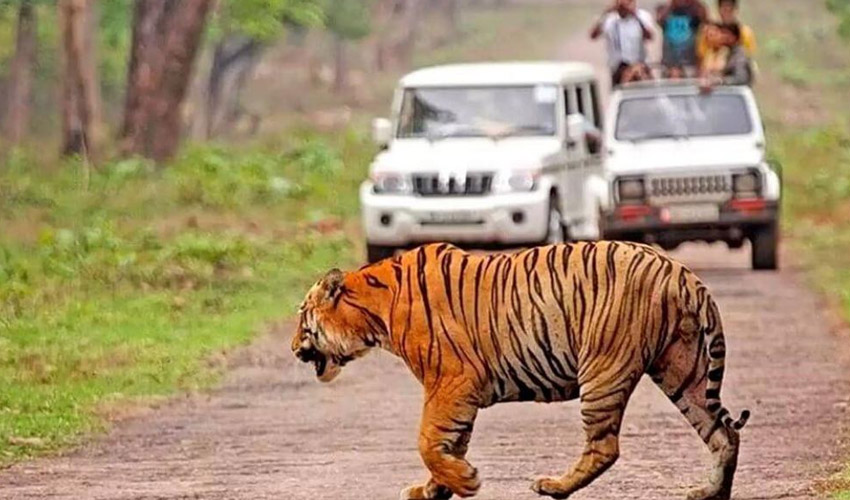 Taboda extends into Chimur Hills and its terrain comprises of wetlands, thick forests, meadows, and several caves as well. If you talk about the flora of the park, it is home to several rare species of trees such as Albizia lebgeck, Lannea coromendelica, Boswellia serrata, Acacia catechu, Shorea robusta, Tectona grandis, etc.

The park provides shelter to 300 species of birds and various mammals including Indian giant squirrel, sloth bear, dhole, wild water buffalo, gaur, blackbuck, chinkara, four-horned antelope along with Bengal tigers. Its ecoregion consists of quite a few regions and multiple water bodies as well.
Closing Words :
India is one of the most prominent destinations for ecotourism as it has many national parks, sanctuaries, and biosphere reserves. If you really like to explore nature and see different animals then you must choose one of these places to visit.
If you want to explore wildlife in Rajasthan and have already visited the famous hotspots. then come to Jawai and see what this place has to offer.
Must Visit in Rajasthan:
Bera Wildlife Sanctuary – Pali
Jhalana Leopard Safari – Jaipur
Kumbhalgarh Wildlife Sanctuary – Kumbhalgarh
Kailadevi Wildlife Sanctuary – Karauli
Desert National Sanctuary – Jaisalmer
Book Your Secure Trip to Jawai Bandh, Rajasthan With Thour Nature Resorts Call & Whatapp :+919784559999 | Email: [email protected]