Jawai is a river which is a tributary of the Luni river. There is a rich history of Jawai Bandh and here you can witness the familiarity between human beings and leopards. Jawai Bandh is located in the Sumerpur Tehsil of Pali district, Rajasthan. The area near the Jawai Bandh has been given the status of Jawai Leopard Conservation Reserve by the government on 23rd Feb 2010. If you are a wildlife lover and enthusiast, you must visit this place as Jawai will not be less than heaven for you.
This blog has been written to give you detailed information about the actions which the government has taken to make this area a suitable place as a wildlife conservation reserve. Also, you will be provided with other details such as the best time to visit this place and will recommend the best place to stay in Jawai.
Jawai Bandh Leopard Conservation Reserve
The forest department of Rajasthan has made this area the Jawai Bandh Leopard Conservation Reserve as these big docile cats are such a wildlife species which is on the verge of extinction. Jawai is a place which is having a high number of leopards the area, hence government have time and again through various notifications announced different areas and nearby villages as Leopard Conservation Reserve by extending its area so that the protection of Leopards can be ensured efficiently.
The recent notification by the state government of Rajasthan has been published on 15-06-2018 by adding some more villages to the wildlife area. The said notification of the state government state as follows:
"In exercise of the powers of section 36A of the Wild Life (Protection) Act, 1972 (Central Act No. 53 of 1972), the State Government hereby establishes the Reserve Forest Ind Lundada A. State Government Notification No. F. 2(15) Raj./8/81 dated 07.12.1982, which was published in the official gazette on 17.02.1994. Reserved forest block has been declared by V.V., that of 782.53 hectares and protected forest block Velar, State Government notification number F. 16), 6/-2/73 dated 20.05.1973, which was published in the Gazette on 13.09.1976.
 Protected forest division has been declared by the state government, that 645.36 hectares and 4771.00 hectares of revenue land, a total of 319663 hectares of land whose details are according to Schedule-I and details of boundaries are as per Schedule-II, have been declared as Ecological and Zoological, Botanical, geo-structural.
Due to natural and zoological importance concerned, the state government via this notification declares the Jawaibandh Leopard Conservation Reserve-II, which will in future be known as "Jawaibandh Leopard Conservation Reserve-II", which is governed by the said Act and the rules made there under or from time to time subject to the provisions of the orders issued".
For further details and more clarity regarding what areas are included in the Jawai leopard conservation reserve, you can refer to the below table and read PDF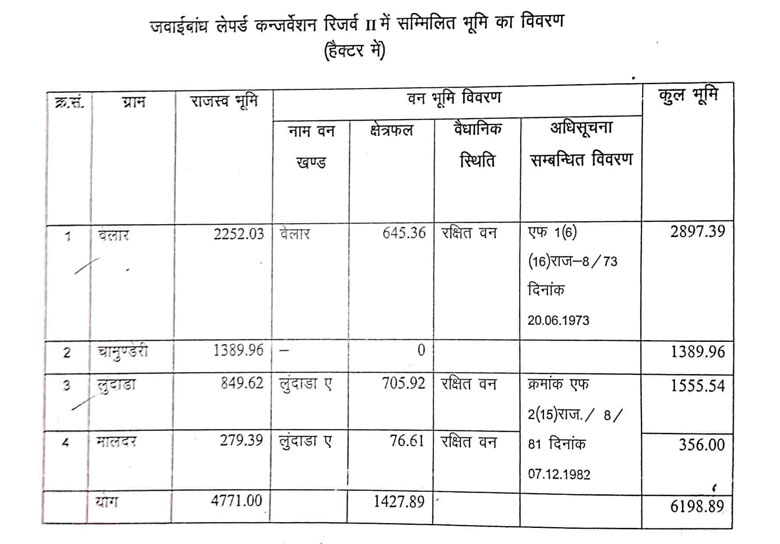 Witness Cave-Dwelling Leopards in Jawai
In every other leopard reserve in the country, these big cats take shelter in the trees. But Jawai Conservation Reserve is not the typical jungle that we visit usually, it gives you a range of granite hills along with a river. These geographical features make this place a perfect spot for photography and capturing the wildlife in open without any obstacles.
It becomes an ideal destination for thrill-seekers, bird-watchers, and wildlife photographers. This place is brimming with all kinds of travellers either with friends or families or as solo travellers and there is a way probability of spotting leopards, crocodiles, and all the other animals.
Best Time to Visit Jawai
However, when it comes to spotting leopards, Jawai doesn't limit it to only a few months. Here, you can spot them at any time, irrespective of the season or climate. Usually, in the other forest reserves, you are suggested to visit in the winter because that's when big cats come out in the open more often to bask in the sun so it is easy to spot in the daylight.
In this particular region, leopards and other animals dwell in caves in granite hills. The rocks get hot in the summer and it is hard for the leopards to stay inside them in the daytime.
However, if you want to know about the best time to visit Jawai, we would recommend you go in the months between October to March. As Rajasthan is a desert state, in these months you don't have to bear the scorching heat and high temperatures. The temperature in these months will remain cool & pleasant.
But don't forget the essential things to pack before going to Jawai Bandh, Rajasthan to make your trip more comfortable.
How to Reach Jawai Leopard Reserve?
Jawai Leopard Reserve is well-connected through all the modes of transportation so it is not a major point of concern to think about how to reach Jawai Leopard Sanctuary. Jawai is well-connected by road with the major cities of India such as Jaipur. Jodhpur, Udaipur, Ahmedabad, Delhi and Mumbai etc. from where you can reach here by driving your vehicle.
If you are coming by flight, you can book your tickets to either Udaipur or Jaipur or Jodhpur or Ahmedabad airport from where you can book private taxis to reach Jawai.
There is also efficient connectivity of trains to reach Jawai. Bera, Jawai Bandh and Falna are the nearest railway station where various express & superfast trains have halts.
Where to Stay in Jawai?
After knowing so many interesting things about Jawai Leopard Reserve, you must have started your planning to visit Jawai. If you are searching for where to stay in Jawai, we can recommend the finest place that provides the best accommodation as well as arrange Jawai Leopard Safari for you at very affordable prices.
Thour Nature Resorts is the best resort to stay near Jawai Bandh which offers a luxurious tent stay with all the modern high-class amenities. They offer Jawai Jungle Safari through gipsy which accommodates around 6 people.

Their drivers are localities as well as experienced as they know which places in the conservation reserve have a high possibility of witnessing tigers. By planning your stay with Thour, you can become lucky enough to witness a leopard while hunting.
Final Words
The government is doing a great job of preserving and protecting these big docile cats. Local people are also very serious about providing their helping hand to protect this wildlife species.
You can enjoy Jawai Leopard Camp by staying at Thour Resorts to add some more sparkling stars to your vacations and can witness Leopards from very close.
Book Your Wildlife Safari with Thour Nature Resorts Call /Whatapp : +919784559999 | Email: [email protected]