Have you witnessed a leopard in real? Was it in a zoo or at a leopard reserve where they roam freely? If it was a leopard reserve, it must have been an adventurous experience. Leopards are powerful cats are from the same species as tigers, lions & jaguars. If you want to witness such big docile cats closely, you should visit Jawai Leopard Sanctuary.
Leopards differ from other big cats in numerous aspects such as they are lightweight, more agile, smaller in size and solitary. However, in Jawai you can experience their familiarity with human beings. Here through this blog, we will discuss this Leopard Reserve in Rajasthan in all the possible aspects.
Jawai Leopard Conservation Reserve

The area surrounding Jawai Bandh is a Jawai Leopard Reserve. This area gained this status on 23rd February 2010 when the government of Rajasthan decreed for the same. Jawai is rich in flora & fauna. If you are a wildlife enthusiast, there cannot be a better place to witness different animals and migratory species of birds here.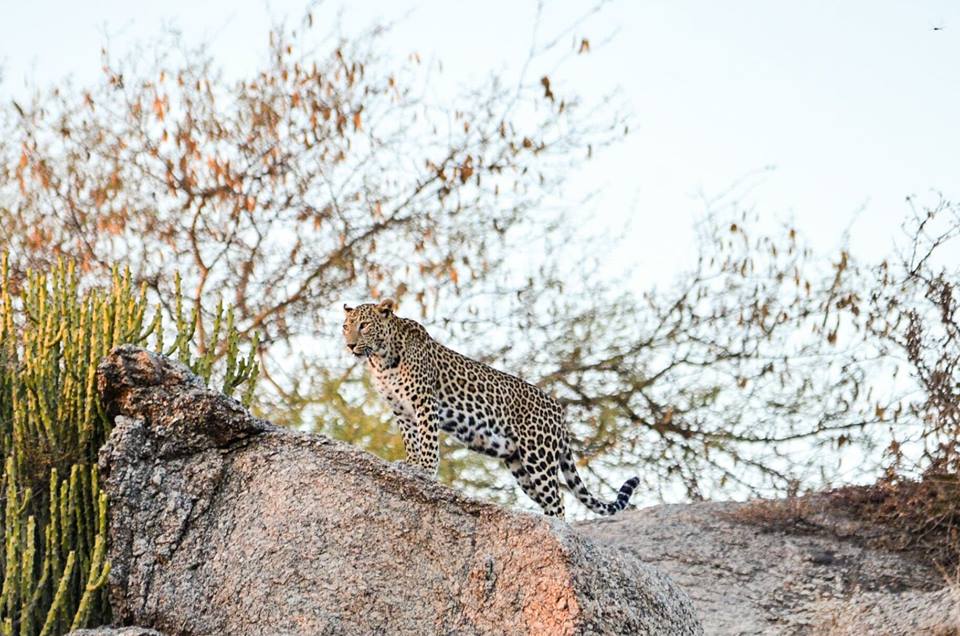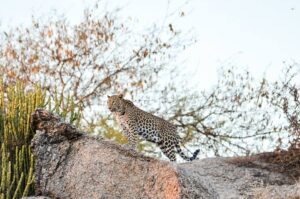 The major wildlife animals other than leopards that you can witness in Jawai includes chinkara, sloth bears, crocodiles, wild fox, nilgai and wolves etc. Due to the rich wildlife of Jawai Leopard Conservation, you should not miss the opportunity to witness the unbelievable.
With its hybrid species, Jawai offers you a lot to see and transforms your trip there into a surreal adventure. This is due to its distinctive tract, which sets it apart from all other Indian forest reserves. Instead of lush trees, this area has animals that live in caverns.
Jawai Leopard Conservation Reserve is quite different from other leopard reserves in India in various aspects. So let us see some of the reasons why you should visit Jawai Leopard Reserve.
🐾 Experience Cave-Dwelling Leopards In Jawai
These large cats find shelter in the trees in every other leopard reserve in the nation. However, Jawai offers you a range of granite hills as well as a river; it is not the conventional jungle that we typically visit. These geographical characteristics make this location ideal for taking pictures and documenting the animals in their natural habitat without any barriers. For thrill-seekers, birdwatchers, and wildlife photographers, it becomes the perfect vacation spot.
🐾 You Can Witness Leopard at any time of the Year to Get a Thrill
Are you aware of the fact that the majority of Leopard Reserves in India have a high chance of witnessing these big cats in a specific season? However, it is not the case with Jawai as you can get the thrill to witness leopards at Jawai throughout the year.
They could seek refuge somewhere, where the sun doesn't shine, so they come out into the open even in the summer. However, they spend most of their time outside and only enter their dens to sleep and unwind.
When it's winter, the stones are chilly, and leopards are out basking in the sun all day, they go to their caves once they've had enough heat, which is usually after they've finished eating and hunting. It is fairly simple to notice them at any time of the year because they are roving over the hills and not deep inside some dark forest.
However, as per us the best time to visit Jawai Bandh will be between October-March as the weather in these months will remain pleasant and you don't have to bear the scorching heat of Rajasthan.
Where to See Leopards In India?
If you want to experience thrill or adventure in your life, then Leopard Safari in India is a must. As we have earlier discussed in this blog, why Leopards are different from other big cats? There is an ample number of Tiger Reserves in India however, the number of Leopard Conservation Reserves is quite less.
Are you willing to do Leopard Safari in India but not clear about the exact places? No issues!!!!…..we are here to recommend the 5 Best Places to See Leopards in India.
🐾 Jawai Leopard Reserve, Pali, Rajasthan
Jawai Leopard Safari would be different in other parts of India due to the familiarity of Leopards with the local people of the region. This is a major reason why Jawai bags the top position when we talk about places to see Leopards in India.
In place of the usual dense forests and trees, which leopards prefer to hide out in, you may see them perched on a rock here. Since the ecosystem is distinct, it also increases your chances of seeing the beasts; in forests, you must walk aimlessly for hours before stumbling onto the creatures because they blend in nicely with the undergrowth.
🐾 Jhalana Leopard Safari, Jaipur, Rajasthan
Jhalana, a park that is next to Jaipur's sprawling urban area, is well known for its outside-of-the-park leopard sightings. These big docile cats are frequently seen by the locals during the night on the roads, and on occasion, they even approach populated areas rather closely.
However, there hasn't been a single instance of a human attack reported here, proving that it is safe to observe leopards here and that the likelihood of sighting them is higher than you may think.
🐾 Kumbalgarh Wildlife Sanctuary, Rajsamand, Rajasthan
Kumbhalgarh Wildlife Sanctuary is another major place where you can enjoy Leopard Safari in India. This sanctuary, which covers an area of 610.528 km2, joins the Kathiawar-Gir dry deciduous forests ecoregion with the Aravalli Range (236 sq mi).
The Kumbhalgarh Fort, which is situated inside the jungle and offers a beautiful perspective of the entire forest, is one of the sanctuary's main attractions. You can also witness sloth bears, sambars, golden jackals, striped hyenas, chinkaras, Indian hares, jungle cats, as well as the leopard, the world's top predator.
🐾 Satpura National Park, Hoshangabad, Madhya Pradesh
It is a tiger reserve in central India that is rich in flora & fauna. This national park derives its name from the Satpura Hills. There is a high number of Leopards present at Satpura National Park which makes it one of the ideal places to enjoy a leopard safari.
🐾 Bandipur National Park, Karnataka
This national park majorly known as witnessing tigers was established in the year 1974 in the Southern state of Karnataka. The number of leopards present in this national park is also good. There are high chances that you would be able to experience these big docile cats at Bandipur to make your trip filled with thrill & adventure.
As we have discussed all the places to experience Leopard Safari in India. However, Jawai Leopard Conservation Reserve located in the state of Rajasthan tops the list. Don't you want to know why Jawai Leopard Safari is so famous? So let's know about Jawai, a thrilling location for all wildlife enthusiasts.
Jawai Jungle Safari: A Land of Leopards & Humans 🐆 🧔‍♂️

Can you imagine roaming with leopards in the same region without any fear? Doesn't it appear like a fairy tale? If you are wondering about such a place, it is none other than Jawai where humans and leopards are living together for a long time.
Jawai Bandh and its nearby region is such a unique place at the global level where you can witness the harmonious and familiar relations between humans and leopards. Due to such a bond between humans & these big docile cats, Jungle Safari at Jawai is a new experience filled with utmost thrill and adventure.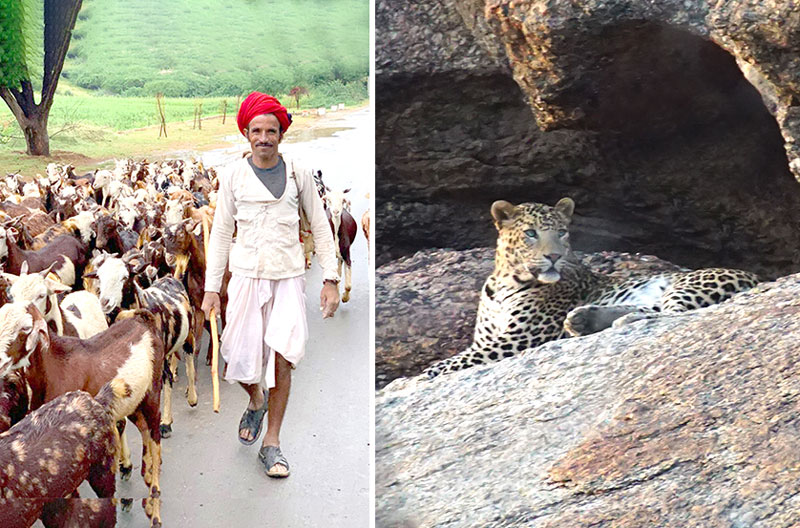 Wildlife experts have suggested certain reasons why in Jawai, Leopards are not harmful to humans. They also figure out some of the obvious reasons for the presence of strong reasons between people & leopards.
Some of the reasons which this forest reserve has grabbed the title "Jawai Jungle Safari: A Land of Leopards & Humans" are as follows:
Here, they were safe from the tigers chasing them out of the bush and the wild dogs and hyenas that frequently bothered them.
There is plenty of food in the adjacent forests, and they have a wide range of hills with numerous caves in them.
Because of their propensity for flexibility, leopards are the most extensively distributed species of big cats. The river provided the water, and the numerous wild animals in Jawai were easy food for them, so it didn't take them long to become familiar with the area's steep hills.
Rabari Tribe (the local tribe of Jawai) is highly dedicated to preserving leopards in the region. If you read the history of Jawai Bandh and its nearby region, you will come to know about the positive contributions of this tribe in enhancing the number of leopards in the region.
Stay in Jawai Leopard Camp – Thour Resorts 🏕

If you are looking for a resort or hotel to stay in Jawai, we can recommend the best resort in Jawai Bandh. Thour Nature Resorts is the ideal resort in Jawai for a luxury tent stay because of the resort's appealing vistas. There is no better place to stay if you wish to spend some time surrounded by nature than this resort.
This resort is situated in Rajasthan's Varaval Belt, Post Bera in the Pali District, where you may see a variety of animal species. If you love wildlife, Jawai is nothing short of a utopia for you because you may see leopards, crocodiles, and other bird species here.
You may have a unique experience in the Jawai Leopard Camp by staying at Thour Resorts. They schedule the Jawai Jungle Safari Tours for their visitors in private jeeps at the time that is most convenient for them, whether it be in the morning or the evening.
Their local guides will accompany you on your jungle trip and will lead you exactly to the location where you may see the wildlife in its natural habitat.
Conclusion
Plan your trip to Jawai Leopard Sanctuary where you can experience the Jawai Leopard Safari in such an adventurous way that would be beyond your imagination. We are sure that after visiting this place situated in the lap of nature, your mind will get endless unforgettable memories for a lifetime.
Call & Whatapp For Book your Stay :+919784559999 | Email: [email protected]