Jungle Safari in Jawai
Ask anyone of places to do wildlife safari in India, you would get suggestions of famous destinations like Ranthambore, Jim Corbett, Kanha, etc. While they are definitely must-see destinations for nature lovers, all these reserves have common traits and attractions such as dense forests, lots of creatures, and tigers.
If you really want to experience a different kind of jungle safari, then you must come to Jawai. This place is a true anomaly in the wildlife setting of India. It is probably one of the few places in the world where you get to see rock-dwelling leopards.
Jawai- A Truly Exceptional Wildlife Destination
In Jawai, you get to see a range of granite hills in which leopards have found suitable shelter along with sources of food and water in the vicinity. But that's not the only thing that makes this place special. There's an uncanny bond between the big cats and humans that amaze every tourist here.
At this place, wildlife is not very isolated from human settlements. There are temples right in the midst of hills that are frequented by leopards and other animals. The priests as well as the devotees come across leopards now and then.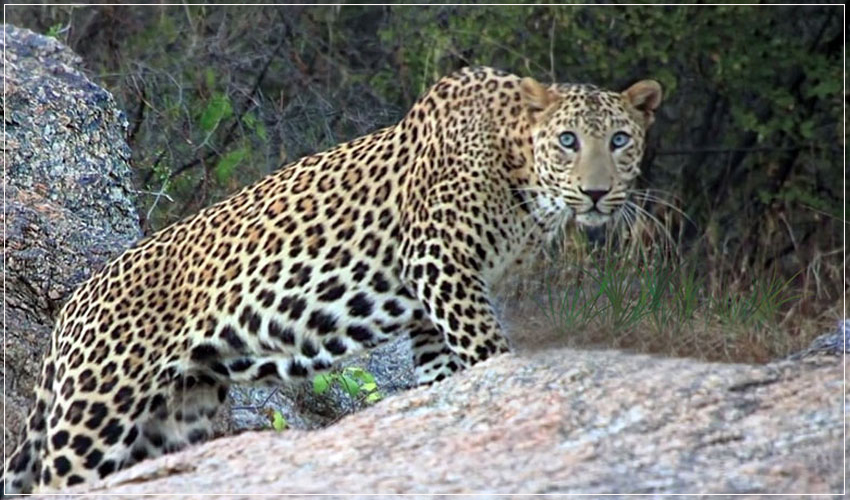 Had it been any urban area, this could have become a major reason for safety concerns. But in Jawai, the people of the Rewari tribe embrace these animals and regard them as guards of their deity. They even comfortably tolerate the occasional pickings of their livestock by leopards.
To date, there hasn't been a single incident of human-leopard conflict here. The big cats seem to be totally familiar with human presence and they don't attack the cattle when the latter is accompanied by shepherds.
A Unique Safari Experience
Jungle safari in Jawai becomes an adventurous and amusing experience for everyone. The rocky terrain makes the ride more thrilling and the spotting of leopards along with other animals is very easy here.
It also becomes a great destination for avid bird watchers since a large number of migratory birds come to this place. In the Jawairiver, you also get to see mugger crocodiles that can sometimes amaze you with their size and features.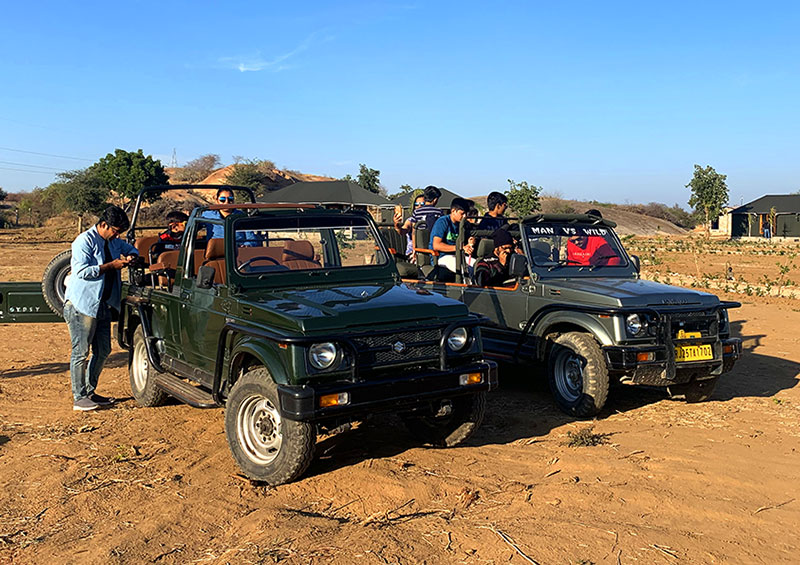 Once you are done seeing the wildlife, you can enjoy some breathtaking vistas on the vintage points here. At the Jawai dam, you can take some amazing photographs of the landscape and there are various points in the hills, you can take the evening while seeing the beautiful sunset.
And just the wildlife, the people of this region are also very interesting. Doing a village safari is a must when you come here. Not only do you get an insight into their lifestyle, you see how amazing these people have oriented themselves with the living conditions here.
Why should I choose Thour for a safari or stay?
Thour makes your trip absolutely memorable by making your safari swashbuckling while giving unparalleled service and facilities. We make jungle safari in Rajasthan absolutely delightful and help you explore this amazing place to the fullest.
Once you come here, there are plenty of things that you can enjoy. With an idyllic setting, this resort helps you feel the country vibe. You get acres of property to take a leisurely stroll and in the evening, you can enjoy the bonfire with delicious food and savoury drinks.
We ensure that get satisfied with everything you see, eat, and experience. We serve home-grown food to our guests that are grown organically right here at our property. The quality of food is never comprised whether its ingredients or taste.
From breakfast to dinner, you get plenty of options and a multi-cuisine menu to choose the items from. Being a jungle resort in Rajasthan, we provide a wide of alcoholic and non-alcoholic drinks that you can enjoy with your friends and family.
Complying With TheCovid Protocols
Lately, we all have gone through plenty of hardships due to the pandemic and visiting a place like a hotel or resort is still tantamount to taking a big risk for many people out there. Thus, we adhere to all the precautions and sanitize jeeps as well as room after and before every visit of a guest.
Our entire staff has been fully vaccinated and Jawai was one of the few places in the world that were least or not at all affected by the pandemic. The reason behind this is that there are no migrant workers here. All the people of the Rewari tribe have stuck to their rural lifestyle and are quite happy with it.
Conclusion
Thour is meritoriously one of the finest wildlife jungle resorts in Rajasthan. If you are willing to do a thrilling safari then visit Thour Nature Resorts. We promise that this would be the ultimate trip that you'll never forget.