Jawai, which is a relatively undiscovered area with a lot more to offer than you might anticipate, is situated in the Sumerpur Tehsil of the Pali district. It is a small community located by the river and dam of the same name. Jawai Leopard's Hills Camping in Rajasthan is one of the best things to do in Jawai.
Beyond that, this location is incredibly beautiful because it is home to a variety of animals, including birds, crocodiles, leopards, and much more. It's the ideal location for people looking for isolation, adventure, and peace.
Are you planning to visit Jawai anytime soon? The most hectic task for this would be finding the best resort to stay near Jawai. Here, in this blog, we will tell you about the best resort in Jawai i.e. Thour Resorts.
The journey to Jawai Leopard Hills in Pali, Rajasthan cannot be complete without staying at this beautiful resort.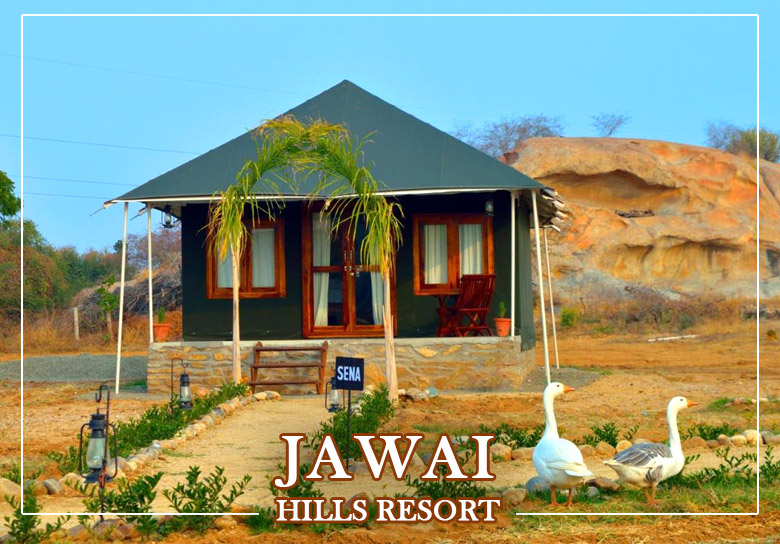 About Thour Nature Resorts 🏕

There is a famous saying that "You should always stay at such a place that adds some more stars to your whole trip". Thour Resorts is the perfect place to plan your stay at Jawai as the management of this resort always tries to make lifetime memories for their guests with their exceptional services.
How to Reach Jawai? 🚗

Have you inquired about all the modes of transportation and are clear regarding how to reach Jawai? No issues at all!!! We are here to guide you on each aspect of planning your Jawai vacations comfortably.
Jawai Bandh area is well-connected with all three major modes of transport that are by road, by rail and by train. Below is a brief overview that can help you in planning your Jawai Leopard's Hills Camping in Rajasthan:

🛣️ By Road: Jawai is well-connected through the major cities of Rajasthan by road. You can reach Jawai from all the main cities of the state such as Jaipur, Jodhpur, Bikaner, Udaipur, Ajmer etc.
🚉 By Rail : Three stations are serving the area around Jawai. The nearest railway station is Mori Bera i.e. located just 5km from Thour Resorts. Another two stations are Jawai Bandh railway station and Falna railway station which are connected to different major Indian cities such as Jaipur, Jodhpur, Mumbai, Ahmedabad etc.
✈️ By Air: You can reach Jawai by taking a flight to different airports in Northern and Western India such as Delhi, Jaipur, Udaipur, Jodhpur and Ahmedabad.
Book Your Stay with Thour Call & Whatapp :+919784559999| Email: [email protected]

👇🏼 Services Offered by Thour Resorts, Jawai 👇🏼
Luxury Tent Stay in Jawai, Rajasthan
When you will get exhausted after Jawai Leopard Safari, the only thing that you will be requiring a comfortable place to stay. Thour Resorts provides you with a luxury tent stay in Jawai so you can have a restful night's sleep. You can spend your time in the lap of nature in comfort by staying in one of our opulent tents.
Their opulent tents at Jawai provide you with all of the contemporary conveniences you would expect in a hotel room, including air conditioning, roomy private bathrooms, and king-sized beds. Our tents are made in a way that they offer a roomy area that can accommodate several persons. We also provide improvised accommodations in the tent upon request to brighten your entire journey.
Are you a fan of wildlife? If so, Jawai is the only place that can be better for you. While on a Jawai Jungle Safari, you can create some of the best lifelong memories. After 10 p.m., you can have a nighttime jungle safari. As leopards prepare for hunting at night, this is a good time to go on a jungle safari in Jawai. So isn't it wonderful to see a leopard on the hunt for prey?
Thour Resorts arranges morning and evening Jawai Leopard Safari for their guests in private vehicles that can accommodate 6 individuals at a time. Leopards roam the area fearlessly, and no incidents of these enormous animals attacking either locals or visitors have been documented.
The likelihood of seeing a leopard during a Jawai Bandh Safari is very high because there are so many of them in the area. You can go on a Jawai Safari in the morning or the evening, as each has its unique benefits. To experience the incredible, reserve your Jawai Leopard Safari today with Thour Resorts.
One of the rare spots in the world where you may see coexistence between people and animals is Jawai. Thour Resorts has come up with an original idea called Full Day Jawai Safari so that you may fully enjoy your vacations amid nature. Their Jawai Safari Packages are designed to provide you with the opportunity to observe the local flora and fauna and visit neighbouring locations.
Thour Resorts make sure that the Jawai Bandh Safari is enough to revitalise your spirit. In a full-day safari, your adventure will begin early in the morning, and all meals—aside from dinner—will be provided to you in the jungle. Dinner will be served at the resort.
The best time to visit Jawai for Jawai Safari can be between October to March when the weather remains cool & pleasant.
High-Class Dining Experience
The hospitality and cuisine of Rajasthan are well-known throughout the world. Since our dining experience is the best in Jawai, we do mean it. You will undoubtedly be forced to enjoy the flavour of authentic Indian food at Thour Resorts at a very affordable price. Their cooks are skilled and qualified to prepare meals from other Indian states as well as traditional Rajasthani fare.
If you're worried that there won't be decent food accessible in the middle of the forest, you're partially mistaken because Thour Resorts is committed to satisfying your appetite with high-quality, fresh food. You might be surprised to learn that all of the dairy and veggies they use are homegrown.
Conclusion
So, it can be concluded that if you are visiting the beautiful place of Jawai that is located in the lap of nature and not less than heaven for wildlife enthusiasts. By doing Jawai Leopard Safari with Thour Resorts, you can gather endless memories.
Book Your Stay with Thour Resort. Call & Whatapp :+919784559999| Email: [email protected]